20 years ago, The Onion found the secret nuclear weapons
Do you remember Hank Scorpio of "The Simpsons"? This newsletter is for you. Plus jokes about cats, quarry drinking and the LOTR-Star Wars rivalry.
Welcome back to The Onion: 20 Years Later, where we review the print issue from 20 years ago, find out what's still funny and examine the cultural impact. Today, we revisit Feb. 5, 2003.
I'm feeling better after last week's COVID bout.
In this issue, The Onion continues satirizing the U.N. inspections of Iraq. Plus, we revisit Yahoo's Web 1.0 dominance with a "Simpsons" reference.
If you're new here, welcome! Please sign up!
What issue is this?
This was Vol. 39, Issue 04, the 133rd new Onion issue of the 2000s. Here's what the website looked like in 2003, 2013 and today.
The front page had 2 jokes that are no longer online: "Plowshare Hastily Beaten Back Into Sword" and "Porn Star XXX-hausted." I think the 1st is far more clever than the 2nd.
Today's Issue 04 webpage is missing a bunch of stories, and it mistakenly shows a story from Jan. 29, 2003: "Real World Producers Still Looking To Fill Eating-Disorder Slot."
What was the top story, and other impressions?
"North Dakota Found To Be Harboring Nuclear Missiles" has good timing because of the Chinese surveillance balloon flying near U.S. nuclear sites.
This article imagines that a rogue nation has been busted by U.N. inspectors (led by Hans Blix) with nearly 2,000 nuclear weapons.
But instead of Iraq, it's North Dakota:
The biggest discovery made by U.N. inspectors, Blix said, was a missile field at Minot Air Force Base, where they found an "almost unbelievable" stockpile of warheads.
This article is somewhat based on real-life events. President George W. Bush had just given his State of the Union address and criticized Iraq for not being forthcoming with U.N. inspectors. Meanwhile, France and Germany refused to commit troops to a U.S.-led invasion.
In The Onion's universe, the inspectors are successful, and France and Germany are furious. Part of France's anger is because they love South Dakota's culture.
Lots of smarm in this quote:
"North Dakota, still in its cultural infancy, cannot be trusted to responsibly handle weapons of mass destruction," French President Jacques Chirac said. "We are talking about a place that doesn't even have a Thai restaurant or movie theater that shows foreign films, but still they have the resources to build thousands of warheads. Do not believe their claims of being 'The Peace Garden State.'"
Most dictators live a lavish lifestyle while their citizens struggle to get by, and Saddam was no exception.
The Onion mirrors that criticism, noting how Gov. John Hoeven "lives a life of comfort and excess inside the heavily patrolled North Dakota governor's mansion, a lavish dwelling paid for entirely by the state, while many of his people engage in subsistence farming."
Sadly, there are no quotes from Bush or other federal officials.
Like last week, The Onion makes fun of the Bush administration without lecturing us. I also love the USA Today-style map — a reminder that The Onion parodies newspaper design, too.
My main critique? This story leans on easy stereotypes about North Dakota being a barren, impoverished, "developing state." I guess I don't expect The Onion to resort to "flyover country" jokes as much as East Coasters like myself.
Speaking of Iraq, "France And Germany Say No" is The Onion asking people on the street what they think of those countries' reluctance to support an invasion. As you'd expect, the jokes are about the cowardly French and the war-hungry Germans.
That said, this is one of my favorite jokes of 2003 so far:
"That's a shame. It would have been hilarious to see the French running around the desert in their froofy Stratego uniforms."

Fred Eckers • Machinist
Lord of the Rings vs. Star Wars
I've seen 1 of the "Lord of the Rings" movies, and I've only seen the original "Star Wars" trilogy. So you can imagine how thrilled I am to review "Nation's Love Affair With Lord Of The Rings Threatening Its Relationship With Star Wars."
I love the multi-layered premise: The article is roughly 50% The Onion ripping George Lucas for his bad decisions and 50% a story about a love affair's arc, from the early good times through to separation, divorce and a new lover.
"I stuck it out, I really did," a saddened Janus said. "I tried to make it work. But Star Wars just didn't hold up its end. A relationship is a two-way street. If George had told me he didn't want to do any more Star Wars movies after the original trilogy, yes, that would have hurt. But it would have been better than dragging me along like this. What he ended up doing was just passive-aggressive bullshit."
This article illustrates people's unhealthy parasocial attachments to pop culture and celebrities (i.e. George Lucas) who do not care about them. When The Onion calls them "Star Wars lovers," they aren't kidding.
"Lord of the Rings" is almost an afterthought to these former "Star Wars" fans. Yes, these fans like the high quality of "LOTR," but they also need a new infatuation — A New Hope, you might call it.
Hey, The Onion remembered sports exist!
The Onion had little sports coverage for many, many years. In fact, in the early 2000s, The Sports Pickle became an Onion-like alternative by focusing on sports.
But 20 years ago this week, The Onion made incredible predictions with "Yankees Ensure 2003 Pennant By Signing Every Player In Baseball."
Signing 928 players to a 25-man roster seems mathematically impossible, and yet, George Steinbrenner would not be denied:
"This is not entirely unexpected," New York Times baseball writer Murray Chass said. "When the Yankees followed up their signing of Japanese slugger Hideki 'Godzilla' Matsui by annexing Cuba for use as a Triple-A farm club, it was clear that Steinbrenner was willing to do whatever it takes to win."
The article is solid, but it's more impressive for its predictions than its jokes:
The Yankees won the 2003 American League pennant (but lost the World Series).

Randy Johnson, as pictured above, became a Yankee (but not until 2005).

The Onion says the Yankees paid $300 million to acquire Alex Rodriguez as the final non-Yankee player. In real life, the Yankees got A-Rod in 2004 and paid him $317 million over 14 years.
This is the 1st big baseball story by The Onion since May 2002's "Congress Threatens To Leave D.C. Unless New Capitol Is Built." That story was inspired partly by MLB's attempt to contract 2 teams.
In 2003, someone on The Onion's writing staff was still mad about that:
Baseball commissioner Bud Selig approved the signing, noting that the other 29 major-league teams received ample financial compensation.

"I see no reason why a small-market team like the Twins or Expos can't continue to remain competitive, just because it lacks players," Selig said. "The league was due for contraction, anyway."
Area People doing Area Things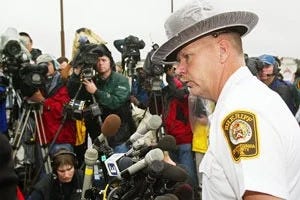 If someone had never heard of The Onion and said, "Give me a story that shows me The Onion's humor and point of view," you could hand them "Drinking In Quarries Down 37 Percent, Small-Town Sheriffs Report" and feel pretty good about yourself.
It's got so many elements of a great Onion story:
It's "local" news that looks and feels like something a small-town paper would write about.

The premise is ultimately absurd, the data fake. But it all sounds almost real.

The details. So many details. You feel like it's an authentic universe of real people.

Somehow the premise is relatable enough that you can enjoy the jokes without being personally familiar with it.
Sheriffs with names like "Dutch" and "Hobart" share how the usual troublemakers — all known by name, face and reputation — are no longer roaming the quarries with cheap liquor.
Sadly, this is bad news for Jack Daniels:
The decline in quarry drinking has also been cause for concern at Jack Daniel's, which recently unveiled "Hard Cola," a product whose customer base is roughly 70 percent quarry drinkers. Attempting to adjust, Jack Daniel's is retooling the product's marketing campaign to target college binge drinkers, parking-lot tipplers, and overweight secretaries on "Just Us Girls" after-work outings.
There are wonderful 2000s references to Zima and Pepsi Blue
:
"Last week, one of my deputies did catch Bobby Hightower and Lee Olle over at the quarry with what looked like a Zima, but it turns out it was just a Pepsi Blue. Surprised the heck out of me, because the Hightowers are one hard-drinking clan. They don't mean nothing by it; they're good people. Why, I used to go with Brad Sr.'s sister Bev back in high school."
I love the Andy Griffith-ish talk about "going with" a girl in high school.
Other Area People stories include:
Were the infographics good?
Whether you love "Who Is Watching Our Cats?" probably depends on whether you love cats.
The joke about a "qualified professional catsitter" is the 2nd time in 2003 that a job mocked by The Onion as ludicrous is actually a job in 2023. You might remember last month's infographic joke about professional Nintendo players.
Also noteworthy: John Ashcroft and Wil Wheaton have little in common, but they both feel very 2003. And mycats.com did exist in 2003 but didn't have any content.
You would think "AOL Time Warner's $99 Billion Loss" would be wildly outdated. Who cares about a 20-year-old corporate mistake? I agree, except that horrible media mergers keep happening — most of them involving Time Warner!
Also, remember the Tweety Bird T-shirt craze?
What columnists ran?
"I Wish I Were More Like My Online Persona" is a fascinating read in 2003. It's timeless because the author struggles to live up to his online personality. We all understand this phenomenon.
It's also wonderfully dated because Douglas Peltz is talking about Web 1.0: chat rooms, Yahoo's Scrabble knockoff, Literati™, the late 1990s computer game Half-Life Team Fortress.
And, of course, this entire article is based on an old "Simpsons" joke!
In the online world, I, Hankscorpio74, am known to be charismatic, tough, quick-witted, and tenacious as a copperhead snake. Like my namesake, Globex Corporation president Hank Scorpio, I am roguish and unflappable, possessing the confidence and flair of 20 men. Unfortunately, all of that changes when I drag my cursor down to "Shut Down" at the bottom of the "Special" menu.
I can't do this column justice. Go read it.
Our other column is "Why Must The Media Call My Ritual Killings 'Senseless'?" by Randolph Lynne, The Grandfather Clock Killer. Both the name and the nickname are excellent.
This disturbing column feels like it's written by a "killer of the week" from the "Hannibal" TV series. Like any artist, Lynne is upset that people don't understand his true genius:
Sure, you could call my first murder "senseless." I'll admit, that inaugural evisceration showed my lack of experience. I was still green and hadn't hit my stride yet. But by the third or fourth body, I had found my voice.
What was the best horoscope?
The horoscopes this week include references to Scrabble, Karl Malone and moose calls, along with The Onion already planning the next war after Iraq:
Virgo | Aug. 23 to Sept. 22

Just so you know: If you speak fluent Farsi and have a thorough knowledge of Middle Eastern culture but don't like travel, it's a good time to keep your mouth shut.
What holds up best?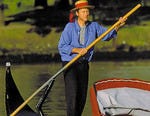 I'm picking 2 items I've ignored until now: "Gondolier Ordered To Follow That Gondola" and "Heroic Turtle Dials Most Of 911."
I love, love, love these kinds of stupid jokes.
Apologies to the stories about LOTR-Star Wars, quarry drinking and the Web 1.0 online persona.
What holds up worst?
This is a strong issue overall, and while not every joke works, there's not much to complain about. I rolled my eyes at "Porn Star XXX-hausted," although other people I've shown that to have enjoyed it. So maybe I'm the problem!
What would be done differently today?
The reference to "overweight secretaries" in the quarry drinking story is dated in numerous ways. No one calls them secretaries, for one thing.
Because The Onion is online-only and publishes 7 days a week, there'd probably be like 15 items about Iraq instead of just 1 or 2.
Thank you
Grateful for y'all. Next week, we'll look at Werewolf John Ashcroft, the Laffy Taffy-Bazooka rivalry, aliens who need sneakers and the triumphant return of Cincinnati's own Smoove B.