The Onion returned from vacation 20 years ago today
Let's read about Target's employee of the month, dot-com failures, God-fearing tumors and more as The Onion published its first issue of July 2000
Welcome back to The Onion: 20 Years Later, where we review the print issue from exactly 20 years ago, trying to find out what's still funny and examining the cultural impact. Today, we revisit July 19, 2000.
We've been gone a few weeks because The Onion also took some time off in 2000. I don't begrudge them the break, but in 2020 vacation can feel rather pointless if you have nowhere to go!
As always, if you have love, hate or have questions, reply to this email, comment on the web version or @ me. Have a friend who might enjoy? Please share!
New here? Sign up for one fun email a week — no cost, no demands.
What issue is this?
This was Vol. 36, Issue 24, the 23rd published Onion issue of the 2000s and the 22nd issue of new content.
Here's what the website looked like in 2000, 2010 and today. Today's website is missing publisher emeritus T. Herman Zweibel's column, "What I Did During My Vacation."
What was the top story, and other impressions?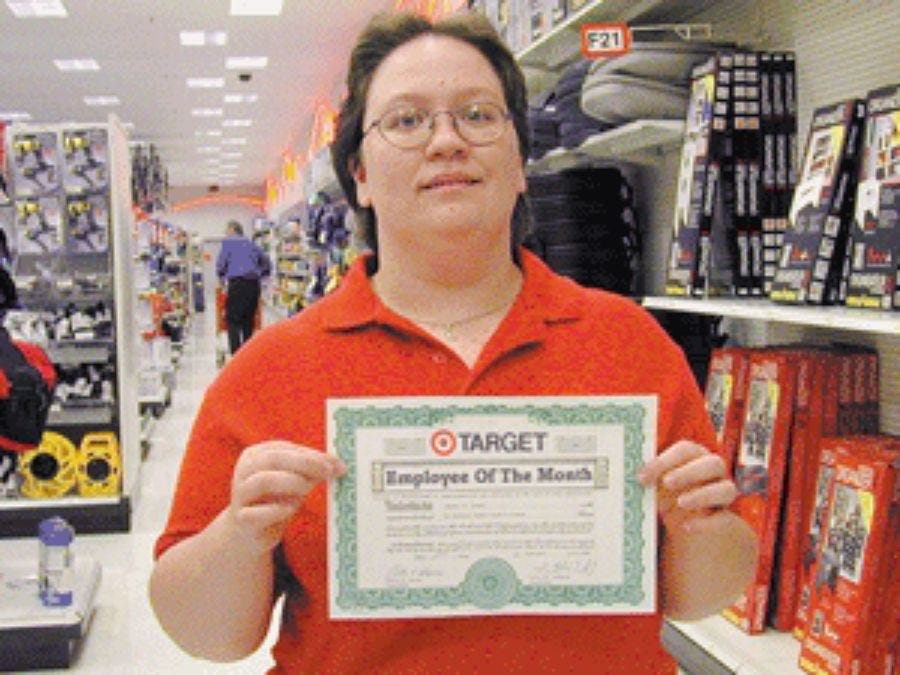 "Employee Of The Month Sad It's Already The 19th" is a bit of meta from The Onion, acknowledging that it hasn't printed an issue since June and it's already July 19.
The article also does a nice job of honoring stocker and cashier Jan Hervey even as it shows the minor tragedy of her life. Hervey's entire sense of worth is tied up in this award from the Target in Franklin, Tenn. She feels this is her peak in life:
"After all those years of wishing and hoping for something like this, the only place left to go is down," said Hervey, whose last honor came in 1983, when she was named Monroe High School Swing Choir Most Valuable Member. "You struggle so long to get that brass ring, and then, when it's in your hand, you get a sort of blank feeling. It's like, what now?"
The Onion's choice of Target is interesting. Target in 2000 was a large retail brand, closing in on 1,000 US stores. But this isn't quite the ubiquitous giant we're used to: In 2000, Target was only one part of Dayton-Hudson Corporation, and it was less than a year since Target had introduced a website, gift cards and the Bullseye Dog. (My home state of Connecticut didn't get its first Targets until October 2000.)
Target was based in Minneapolis, and so for Wisconsinites like The Onion staff, it probably was the big dog in retail.
---
I also want to discuss this cruel but precise parody "Malignant Tumor Sees Every Day As Gift From God," which chronicles Warren Lenders' battle against cancer — but only discusses the cancer's battle.
The parody is not solely a poke at religion. Rather, it's takes all of the language we use to talk about difficult health battles and applies it to the illness itself. The joke even extends to the photo accompanying the article:
That said, the tumor, which is interviewed by The Onion, does extensively talk about its faith:
"I guess I'm so calm because I know that when it's my time to go, a better life awaits me in Heaven, where I will be rewarded for my faith with a glorious bounty of ganglion and glial cells, the likes of which a mortal being like myself cannot even conceive."
Just some local news
The July 19, 2000, issue could largely have been published in any number of years, as there's not too much topical. (A notable exception is "L.A. Efficiency Chosen As Site Of 2000 Libertarian Convention.")
Is this lack of timeliness a bad thing? I don't think so. For one, 2020 is a culture with much more public sharing and where politics is the framework for most topics (whether this good or bad is a separate question). That wasn't necessarily the case in 2000, especially in terms of people's ability to reach large audiences.
Not to mention that 20 years ago, The Onion was just a few years removed from being a local college humor paper. The Onion was trying to skewer everyone, in every part of life, much as a million other regional columnists, early Web satirists, local radio shows and local comedians were.
You'll also see that The Onion was still able to discuss topical issues, some of which remain relevant today — child obesity, libertarianism, the dot-com bubble and more.
But first, here are fun and breezy "local" stories from 20 years ago that you might enjoy:
Odds and ends
The Onion had good one-liners on its front page this week, I think.
"Six Flags Mascot Amazed By How Much TNT Fits Into Foghorn Leghorn Suit"
Were the infographics good?
Yes. Let's discuss.
"America's Obese Children" is a problem that has not improved in the past 20 years. These sorts of jokes are always going to have some clunkers, especially now as society tries not to frame obesity as a personal failing.
Some of the jokes sound like actual policies that a school district somewhere must have tried. Shame-dispensing vending? Organized peer pressure? "Selling U.S. fat bonds" makes me laugh because I imagine Federal Reserve Chairman Alan Greenspan introducing them at a press conference.
I love the idea of a PSA that tells children "Food is Rude, Dude!" When all else fails, try a rhyming slogan.
Editor's sidebar: The school vending machines thing. Is that still going on, parents? I was in high school right when those vending machines really took off. What a diabolical move by Big Soda and Big Snack! After all, the convenience of tasty food and drink is hard to beat. Anyways, that's what I remember from 20 years ago.
As someone who used to regularly be out at 2 or 3 a.m., this list made perfect sense. Also, a shoutout to "Debbie," a name that once was among America's most popular but declined rapidly after the 1960s, according to Baby Name Wizard.
What columnists ran?
Hollywood columnist Jackie Harvey returns with his 4th column of the 2000s, "It's Time For Summer Blockbuster Movie Magic!"
As I've said before, Harvey is at his funniest when he is obsessing over celebrities and pop culture but can't quite get the details right. He misspells "X-Men," learns watching "Today" about the rapper "M&M," thinks Meg Ryan was (then) married to Randy Quaid, and is wowed that "Survival" is the top new reality show, just to name a few.
But, and I cannot say this this strongly enough, how can you not love a columnist who hears about "The Perfect Storm" and writes this:
"Big Storm Coming is about a boat trapped in a storm, and it makes us care about fishermen."
The other column this week that's vaguely topical is "Dressing Up Your Dog As Boba Fett Is Something You Have To Devote A Weekend To," and it succeeds as a tedious, never-ending description of how Larry Groznic goes about dressing up his dog as Boba Fett, as well as his overall Star Wars fandom
I think the article is executed perfectly as Star Wars fandom mockery and the type of overwritten blogging of the early Internet, but I could barely make it through. If you want Star Wars mockery of a different form, might I suggest 2002's visit by Triumph the Insult Comic Dog to a Star Wars premiere.
Finally, what would this newsletter be without T. Herman Zweibel penning a column. "What I Did During My Vacation" begins by noting his skin care problems — notably that most of his skin is a ruined wax job from Madame Tussaud's.
Zweibel's having a tough summer, laid low by his condition and unable to find peace. "The Wizard of Oz" displeased him, with the witch losing, and even "my favorite slaughter-house passages in The Jungle" couldn't save his mood. And it gets worse from there.
It is so maudlin that unless you're a regular Zweibel reader following his travails, you probably won't enjoy it.
What real-life events/people were mentioned?
Tom Cruise. Jenny McCarthy. Tom Hanks. The Wayans family. Tom Green. Drew Barrymore. Randy Quaid. Meg Ryan. Walter Matthau. Jack Lemmon. Harry Dean Stanton. Molly Ringwald. Robin Williams. Mark McGwire. Steve Dasbach. David Bergland. Harry Browne. Don Henley. Paul Lynde.
All of the actors are mentioned in Jackie Harvey's Hollywood column, while Mark McGwire is part of the "Most Frequently Uttered Phrases At 5 A.M." infographic.
Dasbach, Bergland and Browne were all Libertarian Party officials featured in "L.A. Efficiency Chosen As Site Of 2000 Libertarian Convention," with Browne being the 2000 presidential nominee. Henley is mentioned in passing, with the convention playing a song by him.
Paul Lynde, who had been dead for 18 years at this point, randomly pops into the Gemini horoscope this week.
Most "Hey, it's 2000!" reference
So many possibilities! Any reference to the E! channel's "Wild On" show is automatically a contender, but I have to give it to the "No, I don't want to switch to MCI" entry in "Most Frequently Uttered Phrases At 5 A.M."
MCI, obviously, is no longer a company, though you can still find a street sign or two in Washington, D.C., directing you to the MCI Center (now Capital One Arena). But that's not the only dated concept. I mean, companies come and go. But how many people would have predicted the irrelevance of the long-distance phone market by 2020? Ask young people about long-distance phone rates and see what happens.
Was Bill Clinton mentioned? Was an animal quoted?
A tumor is not an animal, so no.
What was the best horoscope?
This is one of my favorite horoscopes so far, and I encourage you to read further. I have to give the award to Aquarius just for accidentally being topical in 2020:
Aquarius | Jan. 20 to Feb. 18

You will awake from a horrible nightmare in which you lived in a racially and economically divided caste-based society.
What holds up best?
One of my favorites from this issue is something I haven't discussed yet: The Onion's "What Do You Think?" feature, this week focusing on "The Dot-Com Fallout."
We've been living through the 2nd era of giant tech startups, some redefining our lives (Facebook, Airbnb, Uber) and some being colossal failures (Theranos, Juicero, etc.). The 1999-2000 dot-com era looms over all of that. What holds up best for me is the statements that could apply to any stock market cycle:
"You mean I can no longer expect to enjoy a grossly overinflated market cap for my unprofitable, $200-million-in-debt Internet start-up? That's not fair!" — Larry Barnett, entrepreneur

"Looks like yet another megatrend has come and gone without affecting me in any way whatsoever." — Ned Huang, dishwasher
What holds up worst?
"Secretary Pretty Sure Vending-Machine Guy Is That Uncaptured Serial Rapist" doesn't play as well in 2020, even if every office has that one conspiracy theorist.
This is one of many Onion stories in 2000 set at local blue-collar businesses, all of which have probably been decimated in the past 20 years. There's no joke here — just noting a big cultural and economic shift that would cause these stories to be written differently today.
What would be done differently today?
Putting aside coronavirus, which couldn't have been anticipated back then, I assume there would have been more political coverage. I actually like that The Onion gave space to the Libertarians — everybody deserves to be satirized!
What was happening in the real world?
It's been a while. Here's a short list of things that happened from June 19-July 16, 2000, as listed by InfoPlease and the front pages of The New York Times (subscription required):
New "Harry Potter" book brings big promotional push. Bashar al-Assad elected Syrian president. Iraq restarts missile testing. Human genome conquered, say two groups of scientists. Supreme Court upholds Miranda rule, rejects partial-birth abortion law. Elian Gonzalez, father return to Cuba. NASA's Mars Global Surveyor suggests water on Mars. NYT: Vocational training is fading. Corporate deals: Philip Morris to buy Nabisco, while Vivendi to buy Seagram. "Poll Finds Optimistic Outlook But Enduring Racial Division." Mexico's ruling party ousted after 71 years. Are B2B websites an anti-trust issue? High gas prices are a campaign issue. Civil unions become law in Vermont. US, Vietnam reach trade deal. Tobacco company fined $144.8 billion by Florida jury. Sports: Lakers defeat Pacers; Tiger Woods wins U.S. Open by 15 shots; Venus Williams wins first Wimbledon; Yankees, Mets play doubleheader — one game at each park. "Bargains on web fade as retailers push for profits."