Office politics at Applebee's and more from The Onion 20 years ago today
After a week off, The Onion returns to talk pre-breakup sex, local celebrities, "Survivor" and ... Jose Canseco and Burundi?
Welcome back to The Onion: 20 Years Later, where we review the print issue from exactly 20 years ago, trying to find out what's still funny and examining the cultural impact. Today, we revisit June 21, 2000.
As always, if you have love, hate or questions, reply to this email, comment on the web version or @ me. Have a friend who might enjoy? Please share!
New here? Sign up for one fun email a week — no cost, no demands.
What issue is this?
This was Vol. 36, Issue 23, the 22nd published Onion issue of the 2000s and the 21st issue of new content.
All the stories are online, but "Acne Medication May Cause Dizziness, Nausea, Loss Of Hearing, Insomnia, Blood Clotting, Difficulty Breathing," is not grouped with the rest of the stories.
Here's what the website looked like in 2000, 2010 and today.
What was the top story, and other impressions?
For some reason, "Burundi Beef Council: 'Please Send Beef'" was The Onion's choice for top story
Burundi at this point was several years into a 12-year civil war that, like neighboring Rwanda, featured Hutu-Tutsi conflict.
Making this the top story was a questionable decision on all levels. Is this the funniest, most relatable topic for parody? Who's the butt of the joke — marketers and those of us who got sucked into "Where's The Beer" commercials? From the business side, would someone walking by a newsstand see this and pick it up?
The material is well-written, which is often the case when an Onion story has otherwise aged poorly or been forgotten. We have a classic marketing article about the Burundi Beef Council attempting to mimic the success of the Burundi Pork Board. There are many details about the target audience (in this case, beef donors) and why consumption has dwindled (no beef).
Even still, I question the placement. Much like "Coalition Of Developmentally Disabled Adults Demands Trip To McDonald's," there's a conscious decision to say, "this is what we're most proud of," by making it the top story.
I can sympathize with The Onion's mindset. After all, it was constantly pushing the envelope and — wisely — ignoring illegitimate criticism. Editor Scott Dikkers told Wired in 1999:
"I think we're very much speaking for a new type of sensibility that's very prevalent in our generation here," Dikkers says. "There is nothing sacred, there is nothing offensive, there's nothing too horrible to say."
Of course, that's not quite true, but much of The Onion's greatness comes from this approach, so an occasional miscalculation is inevitable.
Local people doing local things
Fresh off a vacation, The Onion was perhaps less ambitious than usual, with the notable exception of "Area Applebee's A Hotbed Of Machiavellian Political Maneuvering."
Here, we have a wonderful combination of "area man" quotes, political philosophy and the drudgeries of the workplace. Customers are getting a meal in Hartford, Conn., but employees are scheming and scamming while also memorizing a surprising amount of Niccolo Machiavelli.
We have night manager Roy Mergens embracing the wait staff at the expense of the kitchen, while kitchen manager Karl Krug knows the wait staff is the enemy but is careful not to show it.
And, of course, the boss is always a Machiavellian:
"I keep the 22 Applebee's in my district under my thumb by periodically dropping in unannounced during dinner rush," Hundhausen said. "It is best for a leader to be both feared and loved. But since this usually cannot be done, it is safer to be feared."
Other local stories of note this week:
"Art Object Purchased At Office Depot" is just a headline and a fuzzy photo, but the "Clearance" pricing is a nice touch.

"Roommate Never Seems To Leave Apartment" feels more normal in the coronavirus era.

"Area Man Gets In One Last Night Of Sex Before Breakup," which Derek Haskell reports was "pretty good."

"83rd Birthday Party Stretches Definition Of Party" ends before it gets going. I do wonder how the writers decided on 83 as the most humorous age.

"Hair Dyed Back To Original Color" is a news report. There's no real joke.

"Local Celebrity Cracks Under Stress Of Local Fame" has me wondering, "Is local fame still a thing?" Most minor celebrities these days go viral on platforms, independent of location, right? Truly "local" fame is limited to, say, local athletes, politicians and business owners. The hero of this story is a local TV weatherman, which also counts.

"Local fame is, as they say, a harsh mistress. An ordinary fellow like you or me, or Pastor Bob or Don over at Hefke's Seed & Feed, can't imagine what it's like."
Finally, I want to acknowledge "Eight-Pound Man Removed From Woman's Vagina" not so much for the story (it's extremely silly and treats birth as an alien event) as for the picture of the woman. Is this the hairstyle of a 33-year-old woman in 2000?
Were the infographics good?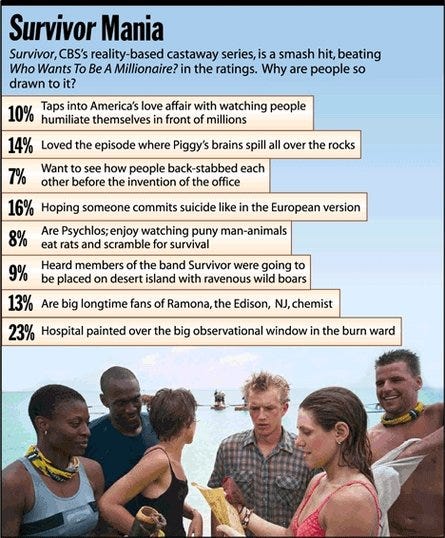 We've had reality TV infecting our culture for so long that it's hard to remember when it was new. "Survivor Mania" knows what's up right in the first answer:
"Taps into America's love affair with watching people humiliate themselves in front of millions."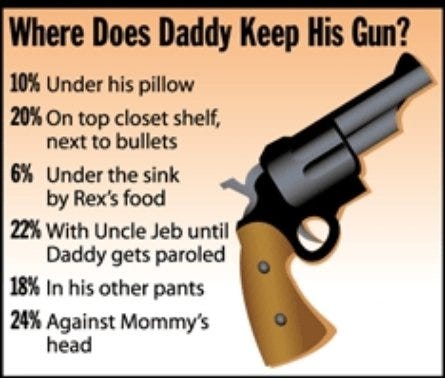 "Where Does Daddy Keep His Gun?" is more of a political point and some easy redneck jokes than amazing humor. I'm curious as to the accuracy of the gun illustration.
Finally, we have "Camping Tips." which is a worthy effort but not quite as funny as "Planning A Family Vacation" less than a month ago. There are some funny bits about the joy of hiking and how to handle a bear. My favorite is this advice that recalls America's raccoon lobby, which I recently wrote about.
Though not widely reported, America's raccoons and opossums are pitted against each other in a fierce turf war. Avoid getting caught in the crossfire.
What columnists ran?
T. Herman Zweibel is a rich man of leisure who shares "My Summer Reading List." He is mostly about free speech, except for burning the bad books and killing G.K. Chesterton.
Every book is real save for Zweibel's autobiography, and he has some … interesting takeaways. For instance:
The Book of Leviticus is listed without comment.
By contrast, regular Onion columnist Jim Anchower does not recommend any literature in "The Greatest Movie Ever Told," his fourth column of the 2000s.
But Anchower is still offering cultural recommendations, as he gives a rave review of "Gone in 60 Seconds," which "stars Nicolas Cage and that hot chick that married the redneck geezer." The move is so good, in fact, that he's worried about his own car getting stolen.
Anchower also bluffed his way into a temporary job hanging artwork in a museum, and he only damaged one painting.
There's not a lot happening here, but "local person uses newspaper column to share mundane happenings" is a time-honored part of community journalism — and a type of local celebrity that's mostly extinct.
Finally, we have "Is This A Garage Sale Or A Sick Joke?" which is a great line that I'll probably never have the chance to use in real life. Anita Grose finds this garage sale to be incredibly disorganized, and she's not having it:
For starters, the children's clothing isn't even separated from the adult clothing. It's all jumbled together on the same rickety card table. What's more, the baby jumpers aren't even folded! This is absolutely obscene. Large items like exercise equipment, stop signs, and crutches are stacked against the wall in such a way that it's hard to tell what's for sale and what's simply being stored in the garage!
What real-life events/people were mentioned?
Charles Mackay. James Branch Cabell. L. Frank Baum. Piers Anthony. Anne McCaffrey. Nicolas Cage. Thomas Fludd. Queen Elizabeth I. Jose Canseco. Split Enz. Sen. Paul Wellstone. Rep. Dennis Hastert. Sen. Trent Lott. Rep. Paul Ryan. Rep. Dick Armey.
Not as much real-life news this week. The first five names are all authors — three recommended by T. Herman Zweibel and the last two mentioned in "Self-Described Avid Reader Halfway Through Dragonriders Of Pern For Sixth Time."
The politicians are all in "Republicans Back Universal Lawn-Care Bill," a story that's solid as political humor (like Paul Ryan, I also dislike "greedy, uncaring neighborhood associations") but is notable for the politicians mentioned.
In the past 20 years, four of these men have, in order, died tragically, gone to prison, been disgraced in office and become House speaker but is now in the political wilderness. The fifth man has a name so fictional-sounding you'd never see The Onion try to use it.
The horoscopes have multiple real-life people this week:
Fludd was Treasurer of War to the first Queen Elizabeth and held other offices before dying in 1607.

Canseco was very much alive and playing baseball in 2000, despite the tone of his horoscope entry:

Leo | July 23 to Aug. 22

You will be publicly ridiculed when the ghost of Jose Canseco denies your story.

A quick Google search for "Jose Canseco denies Twitter" suggests it is Canseco, not you, who gets humiliated.

Split Enz, a rock band I've never heard of.
Most "Hey, it's 2000!" reference
The Onion's "American Voices" question this week was about real-life arrests of crime families who were branching into online fraud and Wall Street. Pediatrician Cindy Greenwood reminds us how futuristic and yet ridiculous iMacs looked back then.
"I kind of expected more from the Gambinos than sitting at home, bilking old ladies out of their stock portfolios on a blueberry iMac."
Was Bill Clinton mentioned? Was an animal quoted?
Nothing this week.
What was the best horoscope?
I have to go with Taurus, if for no other reason than the absolute randomness of this horoscope:
Taurus | April 20 to May 20

Due to an odd arrangement of the constellations, you will be born the oldest son of Thomas Fludd, Treasurer of War to Queen Elizabeth, later this week.
What holds up best?
The Applebee's story. Workplaces are dens of intrigue, Machiavelli's lessons have never fallen out of style, and The Onion presents it so well. It's funny, has lasting relevance and is smart writing.
Honorable mention to "Is This A Garage Sale Or A Sick Joke?" — a story I didn't know about until writing this newsletter but is now one of my favorite headlines.
What holds up worst?
Weirdly, maybe the headline-only "Sales Of 'Bedazzle' Embroidery Kit Continue 20-Year Slide," which isn't online today but can be seen at the 2000 and 2010 pages.
Bedazzling might not be the trend, but it never went away, right?
What would be done differently today?
It's hard to imagine any international story being the top story in The Onion, even on its website.
What was happening in the real world?
We skipped this last week because The Onion re-ran classic stories. So, here's real-world news from June 5-18 as listed by as listed by InfoPlease and the front pages of The New York Times (subscription required):
New York Times continues series on race in America, also examines Bush and Gore management styles. Coca-Cola reaches settlement with black employees after discrimination claims. House, Senate pass bill allowing for e-signatures, making e-commerce easier. Putin meets with world leaders, appoints leader to govern Chechnya. Putin also jails media titan who's critical of him. Supreme Court says grandparents don't have right to grandchild visitation, rules favorably for HMOs. US government look at global warming's possible effects. FCC backs AT&T's acquisition of MediaOne. Ukraine says it will stop operating Chernobyl nuclear plant. Senate confirms leader for National Nuclear Security Administration, while nuclear secrets go missing. Bashar Assad becomes Syrian president after father dies. South, North Korea sign accord. Ethiopia and Eritrea agree to cease-fire. Arrests made after Central Park sexual assaults. Schism developing at Southern Baptist Convention. Cockfights booming in parts of the US. Telescope makes detailed map of our corner of the universe. MP3.com settles music-label lawsuit. New Jersey Devils win Stanley Cup. Video screens come to elevators. NYT looks at why Chuck Knoblauch forgot how to throw.